by 
Sara Shepherd
 on http://www2.ljworld.com/
December 21, 2015 
A team of Kansas University aerospace engineering students just won an international prize for an amphibious aircraft design called the BATWinG — envisioned to transport people in coastal cities cheaper, faster and greener than other modes of public transportation.
BATWinG, an acronym for "Bay Area Transport, Wing-in-Ground-effect," took first place in the sixth annual Power Electronics Systems and Applications Conference in Hong Kong on Wednesday, according to KU aerospace engineering professor and team adviser Ron Barrett-Gonzalez.
The BATWinG aircraft. Illustration courtesy of KU Aerospace Engineering. by Sara Shepherd
"Multiple teams from Asia, Europe and the Americas went head to head in this international competition, which was intended to advance environmentally responsible transportation systems," Barrett-Gonzalez said. He said their BATWinG plane is designed to pick up and drop off passengers from existing ferry terminals; generate very little noise or wake to disturb marine mammals; leave no pollutants behind in the air or water; and travel over marshes, water, sand or pavement.
The KU team's competition paper presents all kinds of calculations too over-my-head (and maybe yours?) to explain here. But here are a few explanations the paper offers about why the odd looking aircraft is designed the way it is:
The nine-passenger plane would have a flight altitude of 10 feet and a max flight speed of 120 knots. The plane features gull-wing doors envisioned for fast and easy passenger exchange, including passengers in wheelchairs. The cockpit is above and behind the passenger cabin, an unconventional configuration envisioned to improve the pilot's lateral visibility. Propulsion is from an electric motor. There is a single aft fan — with a protective wire cage to shield the blades from birds — and "electric trolling motors" in each wingtip float.
Students traveled to San Francisco in May to conduct market research for the project. Their paper even includes a business plan suggesting BATWinGs could be in the air by 2020, and that a fleet of 66 of them could break even on the investment less than two years after launching.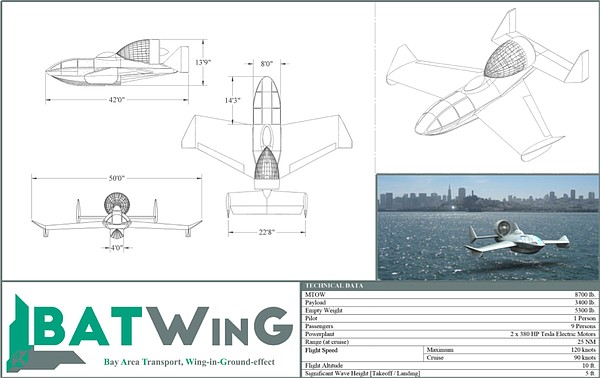 The BATWinG aircraft design, illustration courtesy of KU Aerospace Engineering. by Sara Shepherd
The students who worked on this were team leader Eric Bodlak, of Wayne, Neb.; deputy team leader Lauren Schumacher, of Rolla, Mo.; Dhruv Chawla, of Mumbai, India; Sagar Jaju, of Panjagutta, India; Jeevan Kolli, of Hyderabad, India; and Ankur Patil, of Bangalore, India. Their winning one of the world's biggest competitions for transportation systems is pride-worthy, Barrett-Gonzalez said. And who knows, maybe BATWinG could eventually save the day in congested coastal city like San Francisco?