Join this group
Flight sharing
Lightsport Man overcomes obstacles to take flight
Shared by Dragan Lazic Other photos
You've heard the idiom "the sky's the limit." Well, for Johnathan Smith, this phrase has, indeed, been taken literally.
Smith, 47, heard all his life that, because of his stuttering, he would never be able to accomplish his dream of becoming a pilot. However, he proved everyone who said that wrong.
"I was born with a very bad stuttering disorder and was told as a kid that I would be working on cars or packing bags at the local supermarket, if I was lucky, due to my disorder," said Smith, who was born in Brooklyn, N.Y., but now lives in Arizona. "Everyone in the school system had the same story: I was not going to become anything due to this stuttering disorder."
He was in his 20s when he discovered his passion for aviation. But it wasn't until 2010 that he inquired at two flight schools to see about learning to fly. He was told by officials at both schools that he would never be able to become a pilot.

"I always loved flying, but was informed by a CFI that due to my stuttering disorder I would never pass the medical exam, so I quit thinking about becoming a pilot," he remembers.
His dream turned into a nightmare — until 2015.
It was while vacationing in Las Vegas in December 2015 that he took a helicopter tour ride. That flight rejuvenated his passion.
"Within just a number of hours, I contacted several flight schools in Arizona and found out about the sport pilot certificate, which meant I would not have to take a medical exam to become a pilot," he said. "Once again, though, I was informed that with the stuttering disorder I would not pass the checkride."
This was because FAA regulations require all pilots to be fluent in English, the flight school officials explained.
Even if he passed the medical exam, he wouldn't pass the checkride, he was told by several flight schools.
But Smith chose to believe that was just their opinions, so he set out to prove them all wrong.
He next approached Rick Rademaker, president of Arizona Flight Training Center in Glendale, about teaching him how to fly.
Initially, Rademaker was skeptical, not only because the FAA fluency rule still applied to sport pilots, but because, he admitted, "when you meet someone with a stutter, it's easy to think that they can't do anything. It's totally inappropriate, but it's also subconscious. You don't even realize you're thinking it."
Seeing Smith's passion, Rademaker allowed him to take the FAA knowledge tests before he began flight lessons.
Smith committed to studying for the test.
"I was just so focused on proving to these guys that my speech doesn't stop my brain," he explained.
After passing the written exams on the first attempt, Smith continued on with his training.
"It was then time to get in the plane — my lifelong dream coming true right before my very eyes," he recalled. "I couldn't believe that after being made to feel this would never happen, that my perseverance had finally paid off. I was so excited. I wanted to learn everything about this aircraft and this field.
"I did have only one concern — how would my stutter impact my ability to communicate over the radio? I put my headset on, retrieved the ATIS information, and my CFI spoke into his microphone and ordered me to contact ground for permission to taxi. Low and behold, I spoke with 100% fluency — and the 34 hours flying beyond that point, it's as if my stuttering vanished.
"In researching as to why my stutter disappeared, I found out that when people who stutter speak the same material at the same time with another speaker, their fluency increases," he continued. "Therefore, because a pilot has to speak into a microphone, and the sound is then fed through the headphones, allowing them to hear themselves at the same time that they speak into the microphone. This simulates a Choral Speech Effect."
Once airborne, Smith was committed to the training process.
"I was in the airport every day," he said. "I read every book and I flew every day they would let me."
"People like Johnathan who have something to overcome sometimes have to work harder, so they actually end up knowing the material even better," noted Philip Corbell, Smith's flight instructor.
Once he earned his sport pilot certificate, Lightsport Man emerged.
As Lightsport Man, Smith offers free rides to kids or others with disabilities and disorders, as well as for those who have never experienced flying in a Light-Sport Aircraft.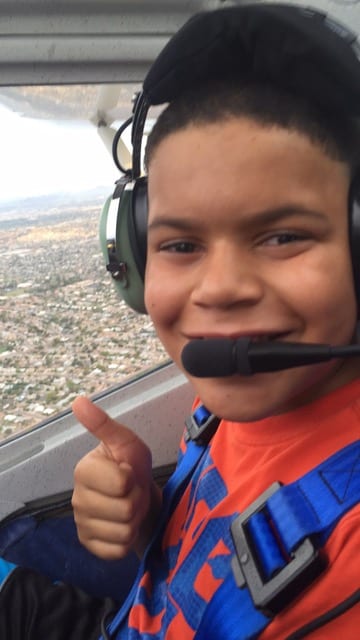 First flight for this boy was with Lightsport Man.
Now Smith lives his dream almost daily. He is up at the crack of dawn, either advancing his knowledge with ground study or "flying high" in an LSA.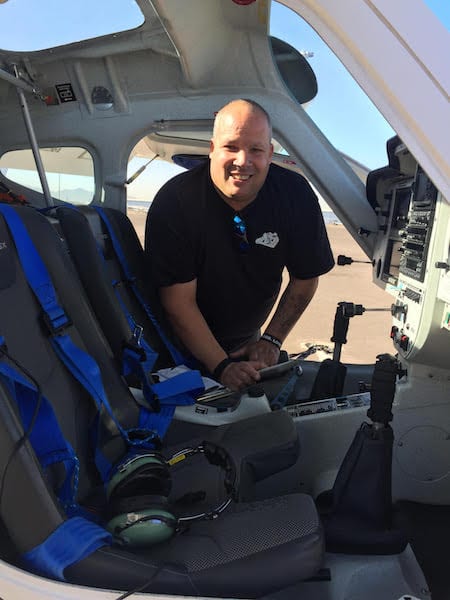 And he didn't just stop at his sport pilot certificate. Within a year, he added to those credentials, now holding an Advanced Ground Instructor Certificate and his commercial remote pilot certificate. His most recent and — proudest —accomplishment is that he is now a CFI-S (Certified Flight Instructor-Sport).
He flies and teaches out of Glendale Municipal Airport (KGEU) and Scottsdale Airport (KSDL) in Arizona.
Rod Hill, a customer-service representative for Southwest Airlines who is a student of Smith's, describes him as an excellent teacher.
"He's a great guy," Hill said. "I don't feel like there's a communication barrier at all. I'm learning so much from him."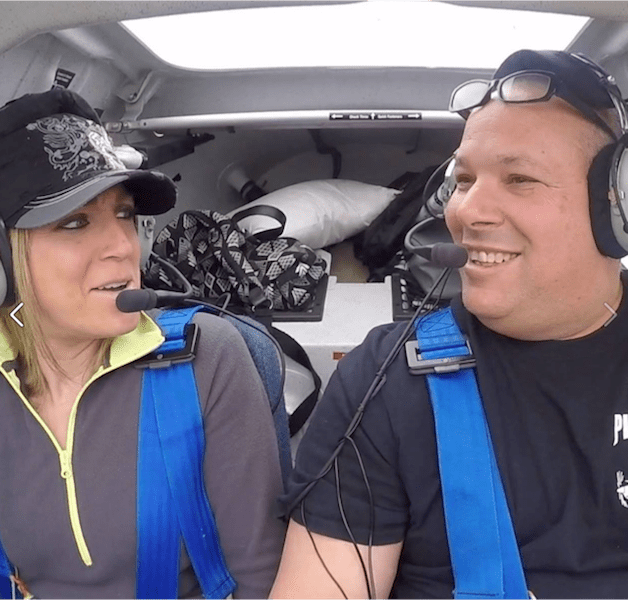 Smith and a passenger.
Smith has also gotten the attention from a few aviation companies, such as Gleim aviation training and David Clark headsets, which now both sponsor him.
"I am proud, not only for overcoming what I was told could never be for me, but I now am able to share my passion and knowledge with others by instructing them to become a pilot," he noted. "Most importantly, I am also a role model for others, opening the doorway into aviation for those who may not ever be presented with the same opportunity."