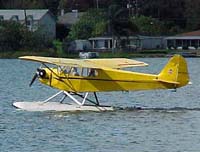 By STEVEN McCAUGHEY   -   
Looking for a new flying adventure? Need a Flight Review? Trying to decide what is the best way to take your flying to the next skill level or what rating to pursue next? Well, I have the answer to all of these questions: It is time for you to get a seaplane rating.
One of the greatest secrets in the GA community, and perhaps the most under-utilized form of fun flying, is seaplane flying. The numbers prove it: Only 3% of rated pilots carry the seaplane rating credential. Boy, do I feel sorry for the 97% of you who have not had those wonderful opportunities to chase amazing adventures into the backcountry of Maine, Alaska, Washington and Minnesota, to name just a few, that I have so enjoyed.
While flying to and landing on "Lake Far Away" is a huge part of flying seaplanes, there are a lot of other reasons to consider the rating. We all need a Flight Review, and since we have to go through a minimum of one hour of ground instruction and one hour of flying every other year to do it,
I've made a habit of trying to get an additional pilot rating every couple of years, which satisfies the Flight Review requirement in FAR 61.56. The seaplane rating is the perfect way to meet the requirements of 61.56, advance your flying to the next level, and have a great time doing it.
Ask any rated seaplane pilot what his or her most enjoyable rating experience was, and I bet you a top-shelf margarita that they will say "SES" — Single-Engine Sea.
I know that the training for my seaplane rating not only was the most enjoyable training experience I've had, but also one that has most benefited my day-to-day flying in my Cessna 120, and in any other airplane as well.
Why? Well, first of all, flying an airplane on and off the water is a highly addictive activity, one that puts the fun factor back in flying.
Second — and just as important — the techniques and skills required to fly a seaplane on and off the water emphasize basic airmanship, or what often is called "stick-and-rudder" or "seat-of-the-pants" flying. In a world where more and more of us are flying glass cockpits on autopilot and concerned mostly with honing our flight management skills, we find that true airmanship has taken a back seat. I cannot place enough value on a couple of hours of flying low and slow in a basic steam-gauge airplane, especially one that involves some unique equipment — floats or hulls — and conditions — a liquid runway.
For those entering the highly competitive career path of chasing an airline job, I would strongly encourage you to consider a seaplane rating. Having it on your resume will set you apart from the crowd because it says you have strong stick and rudder skills. That's a great way to move your name to the top of a short list of prospective hirees.
Getting a seaplane rating usually can be accomplished in a weekend, and the cost is far less than you will pay for any other powered-airplane pilot rating or certificate.
Adding to the relaxed nature of the training is the fact that no written test is required, just a session with a designated examiner who will ask you questions about seaplanes and seaplane operations, and ride with you on a practical test.
The Seaplane Pilots Association has several great resources for pilots looking to chase the dream and start that new adventure called water flying. First, SPA members get access to a free app that lists all of the seaplane flight training schools in the country. You can sort the list by state, type of aircraft, and type of training you want to accomplish — Single-Engine Sea, Multiengine Sea, Commercial seaplane training, etc.
Another exciting opportunity for young pilots looking to earn a seaplane rating is the association's seaplane rating scholarship, officially known as the Tyler Orsow/Chuck Kimes Memorial Seaplane Rating Scholarship. It is awarded to approximately 12 individuals a year, and all one needs to apply is a private pilots' certificate, be between 17 to 35 years old, and be a current member of the Seaplane Pilots Association.
SPA offers numerous seaplane safety and training seminars at aviation events across the country, including this year's SUN 'n FUN. We also are the premier advocacy organization for maintaining water access for seaplanes. The association produces a full-color glossy magazine — Water Flying — for members only, and offers additional benefits, including preferred seaplane insurance, and hotel, fuel, maintenance and rental car discounts, just to mention a few.
For more information on joining the wonderful world that seaplane pilots enjoy, as well as the Seaplane Pilots Association, visit Seaplanes.org or contact SPA at spa@seaplane.org or 863-701-7979.
 Steven McCaughey is executive director of the Seaplane Pilots Association.